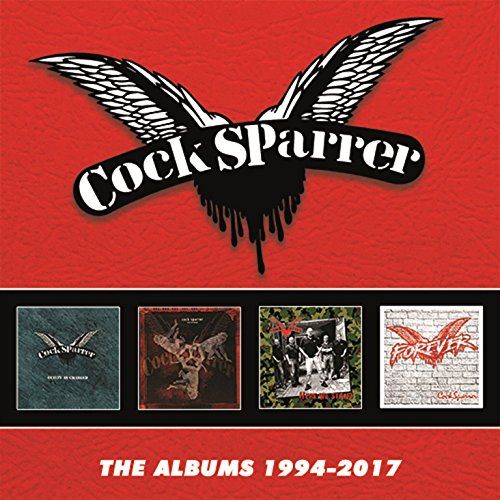 Cock Sparrer is a punk rock band formed in 1972 in the East End of London, England. They are considered one of the most influential street punk bands of all time, helping pave the way for early '80s punk scene and the Oi! subgenre. This is a collection of their comeback album and more remastered and with bonus tracks added. The detailed 20-page booklet comes complete with rare clippings and memorabilia, informative sleeve notes and pictures of all the releases. The whole project, like the recent 1978-87 The Albums box set – has been overseen by guitarist Daryl Smith. When Cock Sparrer re-emerged in 1994, they added guitarist Darryl Smith to the original lineup and this has remained in place for the last 24 years.
With tight some tight playing and the continued energy that the band is noted for, Guilty As Charged is everything that fans had hoped for in a return. The band gives us songs to sing along to, and great lyrics that the listener was expecting. "Last Train To Dagenham" and "Because You're Young" are terrific songs that keep the high standard that they are known for, plus you get the complete Run Away EP as well as a bonus. Two Monkeys includes a rare cover version by the band of the 1970 England World Cup Squad's "Back Home." "Battersea Bardot," is a tribute to ill-starred actress Carol White and is not the usual stuff that they do, but shows that they have the skill to include a different sound to their album and it's a definite treat. Here We Stand is now joined by the 2008 single version of "Because You're Young" plus a duet with WWF legend Dan Hardy on "England Belongs To Me." "Gotta Get Out" is a ripper of a tune that I just can't get enough of, and "Spirit Of '76" is another fantastic punk song that shows that they have the heart and soul to show the kids just how it's done. The last CD Forever keeps the high quality going and proves just how vital they are to the scene after all these years.
It's great to see a band that is still going after all of these years and still giving their all to the fans. They may not be the most prolific band with only seven albums between 1978 and 2017, four live albums, one EP, nine singles and feature on many compilations, but the music is quality and that's what really counts.
https://www.facebook.com/CherryRedRecords/
https://www.facebook.com/captainoirecords