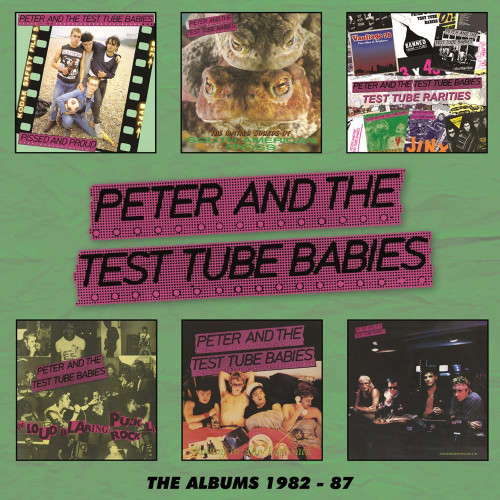 Ninety-one tracks on six CDs box set featuring the entire P&TTB recorded output between 1978-87…how can you go wrong? The first disc is the debut live album, Pissed & Proud, that hit No.2 in the Indie Chart in 1982. The Mating Sounds Of South American Frogs is on Disc 2 that hit No.7 in the Indie Chart in 1983. Disc 3 features 26 rare non-LP cuts by the band including the Indie Chart hit singles "Banned From The Pubs" (No.10), "Run Like Hell" (No.2), "Zombie Creeping Flesh" (No.2) and "Blown Out Again" (No.40). The 18 track demos collection Loud Blaring Punk Rock is Disc 4, a No.7 Indie Chart Hit. Disc 5 features the Rotting In The Fart Sack EP (No.3) plus the "Wimpeez" (No. 8) and "Keys To The City" (No.19) singles, whilst Disc 6 is the brilliant Soberphobia album from 1987, an Indie Chart No.11 hit. Each disc comes in a cardboard wallet with its original LP art and the clamshell box also contains a 20-page booklet featuring pictures of all the records, rare clippings from the band's archive and detailed liner notes.
All I can say is wow! So much punk rock goodness and fun that it's almost too much…almost. I have been a fan for years and have a few of these already, but with better sound, and having all of this music in one spot, how could I refuse? As much as I enjoyed the first live album, their first album proper really grabbed me and I still play the hell out of it today. Such a great true first album of studio tracks that the energy and fun still get the heart racing today. The third disc has a ton of great non-album songs on it, and truth be told, some of their best songs, that it is a hard disc to put down., I mean "Banned From The Pubs" is such a classic. The third CD has a lot of great songs but pales only because I wanted more of the studio music, not demos, but I still like it. Disc five brings back the studio tunes, some live stuff, but a whole lot of humour that will leave a smile on your face. The last CD has more of a smooth sound, still punk, but more pop, and even more catchy, but still great, that it might have made the diehards not too happy, but it's a great bunch of songs that keep the sound of the band going in a positive direction and still is better than most so-called punk nowadays.
With improved sound, great info in the booklet and great packaging, this is the collection to get. You will laugh, you will want to shout along with the band, exactly the way that the band would love you to do. Result!
https://www.facebook.com/PeterAndTheTestTubeBabies/
https://www.facebook.com/CherryRedRecords/
https://www.facebook.com/captainoirecords/